MPs to investigate Lincolnshire police 'soap opera'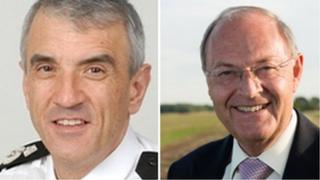 The Home Affairs Select Committee is to investigate the "soap opera" involving Lincolnshire's police commissioner and temporary chief constable, its chairman Keith Vaz MP says.
Temporary police chief Neil Rhodes was suspended by the force's police and crime commissioner (PCC) Alan Hardwick in February over an employment dispute.
But Mr Rhodes has since been exonerated by a report.
Mr Vaz said MPs would examine the case as part of an investigation into PCCs.
'Something of a soap opera'
Mr Vaz said the committee would visit Lincolnshire as part of its investigation.
He said: "We are starting a major inquiry into [PCCs] and we will be coming to Lincolnshire to talk to the parties.
"This is a very concerning case because it deals with an example of the relationship between commissioner and chief constable.
"It's been something of a soap opera. Perhaps people in Lincolnshire didn't even know they had a police and crime commissioner before this started. They certainly know it now."
Mr Rhodes was suspended over his involvement in a dispute where he was accused of helping a former employee at West Yorkshire Police pursue a claim of racial discrimination which he knew to be contrived.
The report, by Greater Manchester's chief constable Sir Peter Fahy, concluded there was no evidence Mr Rhodes acted improperly.
Mr Vaz said his biggest concern was that Lincolnshire's police and crime panel - set up to oversee Mr Hardwick's decision - had "failed to do it's job".
'Not over'
The panel has now formed a task group to investigate the circumstances of Mr Rhodes' suspension.
Mr Vaz added: "This still is not over and it's cost the people of Lincolnshire thousands and thousands of pounds."
Mr Hardwick responded to the report by saying he had no regrets about suspending Mr Rhodes.
He said: "I think what I did was right. Had I ignored the allegation, that would have been the thin end of the wedge."
The chair of the panel's task group, Chris Cook, said: "It is common practice not to interfere in these processes in case we compromise them."
In a statement, Mr Rhodes said: "I have sought over the last six months to maintain a dignified silence, safe in the knowledge that I knew there was never any substance in the spurious allegation."
He said he would apply for the position of permanent chief constable when it was advertised.
He called for a line to be drawn under the matter.