Lincoln Carlton Academy school opening delayed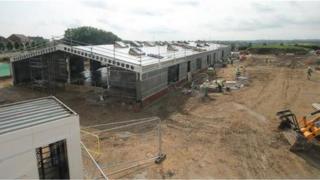 The opening of a £3.3m primary school in Lincoln has been delayed until January.
The Lincoln Carlton Academy was due to open on Thursday but problems on the site - a former quarry - have meant construction is taking longer.
Sixty four and five-year-olds, who were due to start there, are now being bussed to a different school.
"Unfortunately we have been left with a bit of a delay," executive head teacher Marie-Claire Bretherton, said.
"The school now won't be opening until January. It is being built on a former quarry site and it took the builders longer to prepare it than expected."
'Squeeze on places'
The school is being built to take pupils from a new estate, at Carlton, and will accommodate 420 pupils.
"There isn't a school close to that area, so a lot of the children are travelling to village schools which is causing a bit of a squeeze on places," Mrs Bretherton said.
The school is a partner of Mount Street Academy.
Lincolnshire County Council is providing buses to transfer children to the temporary classrooms at Mount Street.
A spokesperson said the new school should be completed by November, prior to its January opening.