Pocklington's Bakery told to repaint lime green shop-front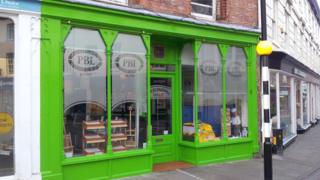 A Grade II-listed bakery has been ordered to repaint its lime green shop-front as it is not "in keeping" with the area.
Pocklington's Bakery in Louth, Lincolnshire, should have been painted a Victorian green, dark blue or maroon shade instead, the council suggested.
Bakery owner Chris Pocklington said he would repaint the shop but had not yet decided on a new colour.
East Lindsey District Council said it had received a number of complaints.
'Particularly sensitive'
"My wife picked out the colour with my daughter - we thought if we just changed the shade of the green we would be ok," Mr Pocklington said.
"We are not going to fight the council. We respect the conservation area and we will repaint it a colour they approve in the end."
A council spokesman said: "As Louth is an historic town, it is important that the shops have a degree of unity and use colours that are right for their age and character."
The council said the bakery was situated in a "particularly sensitive" area because of its proximity to the Market Hall.
Council spokesman James Gilbert said the council had received "a handful of complaints" about the colour.
Mr Pocklington said he was looking for "something a little bit brighter - perhaps we will see a colour chart with the approved colours on and we will come to a compromise eventually".
"If anything, we have more people coming into the shop purely to see what the all the fuss is about - which is good for business."
The bakery was founded in 1924 by Mr Pocklington's grandfather.