Temple Hill wind farm plan firm 'poor over communication'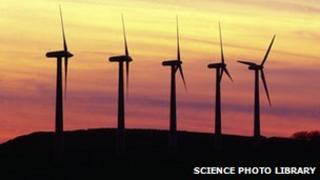 Residents living close to a proposed wind farm site in Lincolnshire have accused the company planning to build it of failing to communicate with them.
RWE npower Renewables want to construct five 126.5 m (415 ft) turbines at Temple Hill, north of Grantham.
Protestors said RWE had not invited people from villages affected by the plans to its public consultations.
In a statement, the firm said it was keen to share its proposals and was not being "secretive".
Paul Miley, a spokesman for reVOLT, a community action group, said people living in Brandon, Caythorpe, Dry Doddington and Stubton, were not given enough time to attend meetings.
'Share proposals'
He added RWE had sent information booklets to places unaffected by the wind farm.
Mr Miley said: "The fact that villagers adjacent to the site haven't been given sufficient notice to attend [information sessions] is very poor.
"RWE could be trying to avoid a repeat of their PR disaster a year ago when 94% of attendees left a similar information session vehemently opposed to their plans."
In response, RWE said in a statement: "Far from being secretive, we are keen to share our proposals with as many people as possible, which is why we notified communities in a 5 km (3.1 miles) radius from the project site."
It added 3,000 booklets about the proposed wind farm were sent to addresses in the Stubton area.
RWE also said further deliveries were made to areas that did not receive the documents.
Three information sessions have been scheduled for Tuesday, Wednesday and Thursday, in Caythorpe, Dry Doddington and Stubton, respectively.
RWE, which said the wind farm could power up to 7,000 homes each year, has yet to put in a planning application to South Kesteven District Council.