Lincoln Castle refit designs are unveiled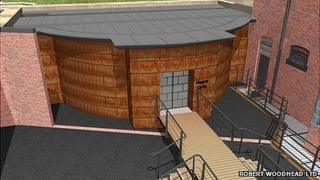 Designs for a remodelled Lincoln Castle visitor centre have been unveiled.
A project costing nearly £20m will see a new underground vault built for the Magna Carta, one of only four copies known to exist.
The two historic prisons within the castle will also be refurbished with a cinema and new stairs.
The work is due to be completed by spring 2015, in time for the 800th anniversary of the Magna Carta, a charter which limited the king's power.
The vault will also hold a copy of the Charter of the Forest, which some scholars hold as more significant than the Magna Carta in that it dealt with the rights of common men, instead of nobles.
Nick Worth, the council's executive member for heritage, said: "This is a real milestone moment for the project.
"The castle is the only place in the world where Magna Carta and the Charter of the Forest can be seen together, and this phase of the improvements will give them the home they deserve.
"This will make the castle an attraction of international importance, bringing in many more visitors from near and far. And that's good news for the local economy."
A stone coffin found on the site by archaeologists, possibly of a Saxon bishop or noble, is expected to be lifted within the "next few weeks".
The castle is remaining open throughout the work.