Ryan Smith's first words after cycling accident without helmet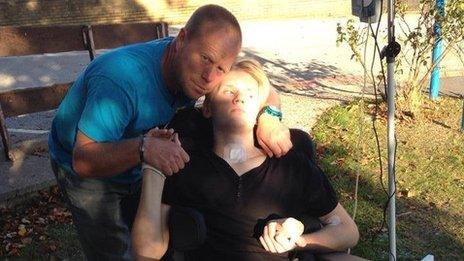 A boy left in a coma after he was knocked off his bike has spoken his first words since the accident four months ago.
Ryan Smith, 16, was not wearing a helmet when he collided with a van in Lincolnshire.
His father Mark Smith, who said Ryan had not wanted to mess up his hair by wearing one, is campaigning for a law to force cyclists to wear helmets.
He said hearing his son say "hello" in hospital was incredible.
"A lot of the children and kids seem to think it's not cool to wear a helmet but if you have a look at Ryan at the minute, I would say that's a lot less cool," said Mr Smith, from Chapel St Leonards.
"Being a paramedic I know they make a difference."
Ryan collided with a van driving in the opposite direction on Langham Road, Hogsthorpe, on 22 July.
The accident happened on a blind bend on a single-track road, and police said it was not necessary to arrest the van driver.
"We were told he probably wouldn't live for the first week," said Ryan's father.
"Initial prognosis from his MRI scans and his CT scans was horrendous."
His hospital visitors have included former footballer John Hartson, who contacted Mr Smith after seeing him interviewed about his campaign on television.
Mr Smith said the first word he heard his son say was "hello".
"I said right Ryan I'm going to say hello, any chance of a hello back?" he said.
"He took a big deep breath and this sort of hello came back. Well you had to peel me off the ceiling for ten minutes after that. He followed that up with a Dad and a Mum.
"Ryan's defying all the odds. All the prognoses thrown at him he's said no to, and while he continues to fight his family and his friends will fight for him."
Angela Lee, chief executive of the Bike Helmet Initiative Trust and a nurse consultant in paediatric trauma, said helmets made cycling safer because they protected the brain.
Related Internet Links
The BBC is not responsible for the content of external sites.