Donna Nook seals displaced after tidal surge hits reserve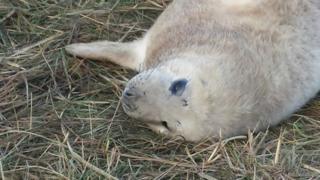 Hundreds of seals at one of the largest reserves in the UK have been displaced after it was hit by coastal flooding.
Lincolnshire Wildlife Trust said the seals have been scattered throughout the dunes and are "very stressed".
Donna Nook near North Somercotes in Lincolnshire is home to a colony of about 3,000 grey seals - with about 1,500 pups born each year.
The reserve will remain closed to visitors while staff search for abandoned pups along the coast.
In 2011, about 75 pups died after a series of high tides hit the colony.
However, the trust said it is not thought many pups have died as a result of Thursday's surge.
Rachel Shaw, from the trust, said problems arise if the pups become separated from their mothers and struggle to find each other again.
Ahead of the flooding, staff opened gates and cut holes in the fence along a public viewing platform to allow the seals to retreat into the dunes for safety.
For most of the year, grey seals at Donna Nook are at sea or on distant sandbanks.
But in November and December, up to 60,000 visitors come to see the pups along the six-mile stretch of beach - based on an active Royal Air Force weapons range.