Ollie the lost puppy is home safe in Gainsborough after search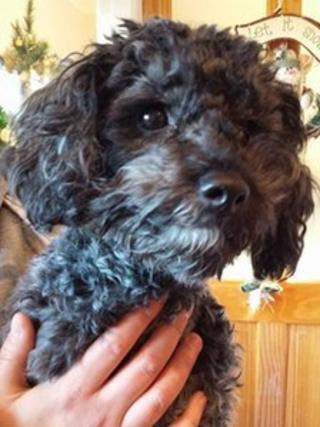 A puppy missing for two days after being in a car crash is back at home after about 100 people joined a search for it.
Ollie the Westiepoo ran from the scene of the crash in Gainsborough, Lincolnshire, on Friday.
Members of the public, firefighters using heat-seeking equipment and a specialist dog tracker were involved in the search.
Ollie was found unharmed on Sunday, about four miles from the crash scene.
Owner Dana Kilburn said she was "absolutely overwhelmed by the community spirit and everybody pulling together".
Volunteers came forward after Miss Kilburn and her boyfriend, Craig Barnes, appealed for help on Twitter and Facebook.
"I was absolutely devastated and heartbroken," she said.
"I think the only thing that actually kept my hopes going was seeing all these people messaging and commenting and tweeting."
The crash involved two cars and happened at about 17:30 GMT on Friday.
The female driver of one car was cut free and Mr Barnes, who was driving the other car, was taken to hospital.
Neither was seriously hurt.
Miss Kilburn, who was not involved in the crash, said her first priority after her boyfriend left hospital was to look for Ollie.
"I went into a panic and didn't know what to do," she said.
'Been on adventure'
They were particularly worried because Ollie is less than a year old, small, and "not very streetwise".
A specialist dog tracker helped with the search by examining different types of dog waste, and a library printed out missing dog cards for free.
The search culminated on Sunday, when about 50 people met at a pub so they could search for Ollie together. He was found shortly after midday.
"To be quite honest he doesn't even look like he has been on an adventure," said Miss Kilburn.
"He has kept himself really well groomed and he's got no marks or cuts on him, he's just got a bit of mud on his tummy.
"So he actually looks like he has been having a really nice time."