Red Arrows pilot Sean Cunningham 'died in 300ft ejection'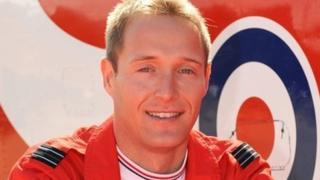 A Red Arrows pilot died when his ejection seat fired him up to 300ft and he hit the ground with "tremendous" force, an inquest has heard.
Fellow pilots have described Flt Lt Sean Cunningham descending to the ground with his arms "flailing" and the seat still strapped to his back.
He had been doing pre-flight safety checks on the ground at RAF Scampton in Lincolnshire when the seat fired.
The inquest will investigate potential design faults with his Hawk T1's seat.
It will also examine why the main chute of his parachute - which should have saved his life - did not deploy.
The South African-born airman, 35, who grew up in Coventry, died on 8 November 2011.
'Black object'
Flt Lt Kirsty Stewart was inside an operations building at RAF Scampton when she saw him descend.
She described hearing a loud noise and looking out of the window, expecting to see an aircraft on fire.
"Then I was aware of a black object moving which caught my attention," she said.
"It quite quickly hit the ground and it was in that moment that my brain managed to process what it was looking at.
"It was an ejection seat with something fluttering above it."
Flt Lt Stewart told the inquest she had previously experienced a problem with an ejection seat firing handle, when she was flying a Hawk as an instructor in 2003.
Sleeping medicine
A post-mortem examination found Flt Lt Cunningham died from multiple injuries, mainly to his chest and head.
A bottle of Night Nurse, a medicine to relieve the symptoms of colds and flu and aid sleep, was later recovered from his bedroom.
A toxicology report suggested he had used the medicine the evening before he died.
Pathologist Prof Guy Rutty said there is evidence that an ingredient in the medicine can cause sedation, may impair pilots' performance and is thought to be dangerous for those operating aircraft.
However, a report by another doctor said it was unlikely that a dose taken the evening before would have affected Flt Lt Cunningham's ability to fly the following morning.
His fellow Red Arrows pilots told the inquest he had appeared normal and "jovial" in the morning.
Flt Lt Martin Pert saw his colleague descend to the ground after the ejection, and realised something was wrong because of the lack of parachute material.
"I've seen videos of ejections before on the ground. I know what an ejection should look like and it was just obvious something was wrong," he said.
"I would have expected to see Flt Lt Cunningham away from the seat, i.e. separated from it.
"I could see his arms flailing, trying to get balanced in the air."
He described the impact of his colleague hitting the floor as "tremendous".
Team leader at the time, Sqd Ldr Jim Turner, told the hearing when he took charge some of the engineers were "very young and inexperienced".
He said this was quite a surprise because during his time as a pilot with the Reds they had been very good.
He added that he thought about Sean every day and hoped the inquest would bring closure for his family and the team.
The inquest at Lincoln Cathedral Centre is expected to last until the end of January.