Male pole dancing competition cancelled due to lack of interest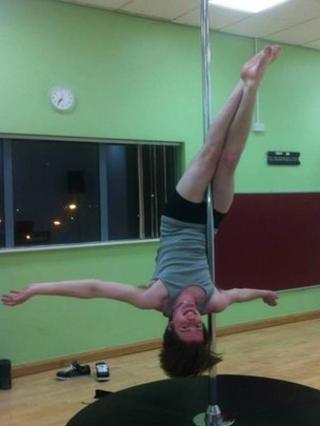 The only male entrant in a pole dancing competition will still be allowed to perform after organisers scrapped the men's category due to lack of interest.
Tristan McSkelly, a dance student from Scunthorpe, was due to compete in the Lincolnshire Pole Dancing Championships in Skegness.
More than 30 women are taking part, including Derby's Emma Haslam, who has attracted thousands of You Tube views.
Mr McSkelly will perform his routine with a song from The Jungle Book film.
'Flexibility and grace'
He said he was disappointed when he found out the male category had been scrapped but is now looking forward to making his debut in front of a sell-out crowd.
The 21-year-old said he thinks more men should give pole dancing a try because it is a great way of building strength.
However, he added: "When it comes to flexibility and grace that's where I start to struggle a bit."
Mr McSkelly was originally going to perform his routine to Seven Nation Army by The White Stripes, but changed it after he said it "wasn't really working in terms of entertainment value".
He will now perform the song I Wanna Be Like You dressed as the character Mowgli from Walt Disney's The Jungle Book.
The event takes place at the Grand Central complex in the resort on Saturday.