Boston's new St Botolph's Bridge lifted into place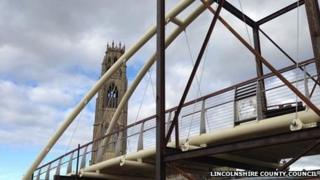 A new £750,000 footbridge has been lowered into place over the River Witham in Boston, Lincolnshire.
St Botolph's Bridge has replaced the old bridge that had been there for more than 40 years.
Lincolnshire County Council said the structure had been installed by Saturday evening.
The bow string design, chosen during a public consultation in January 2012, was partly funded by the local authority.