St Wulfram's church repairs poised to start in Grantham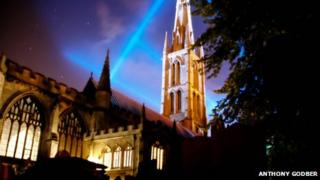 Work is set to start to repair a church spire atop what has been described as "the finest steeple in England".
Victorian art critic John Ruskin is said to have "swooned" when he first saw St Wulfram's Church in Grantham, Lincolnshire.
Metal rods inside the spire have eroded causing damage to the stone work. Erecting the scaffolding will take around four months.
More than £500,000 has been raised to help fund the repair work.
'Colossal' project
Jean Parker, appeal chairman for the church, described the project as "colossal" and praised the efforts of all those involved in raising the money.
"Grantham has really taken up the challenge and run with it and without the backing of the community it wouldn't have been possible," she said.
Further fundraising events are planned for later in the year to raise the £24,000 needed to complete the project.
These include an event offering the chance to jump over the church's weather vein, when it is removed from the spire.
Work is expected to be completed by the end of the year