Lincoln's original copy of the Magna Carta to tour USA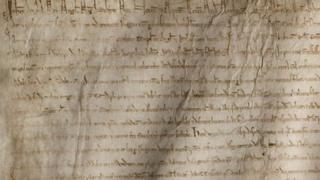 Lincoln's original copy of the Magna Carta is set to go on a tour of the USA.
The document, which is 800 years old next year, was drawn up to protect the rights of peasants and is widely recognised as the inspiration for the USA's Bill of Rights.
Phil Hamlyn Williams, of Lincoln Cathedral, said it will travel to Boston and Washington DC.
It has been 75 years since it last went on display in the USA.
"Magna Carta has served as a potent symbol for all Americans seeking protection against the villains of power - none other than the British monarchy," said Mr Williams
"They revere it because they understand what it's about - countering the abuse of power."
The Magna Carta will be on display at venues including the Museum of Fine Arts in Boston, the Sterling and Francine Clark Art Institute in Williamstown, Massachusetts and the Law Library of Congress in Washington DC.
The exhibition in Washington will mark 75 years since Lincoln's copy was stored there for safekeeping when World War Two broke out.
It had arrived there for display at the 1939 World's Fair in New York.
When it returns to Lincoln it will be housed in a vault currently under construction at Lincoln Castle.
Lincoln's document is one of only four surviving original copies of the Magna Carta - two are held at the British Library and the other at Salisbury Cathedral.