Lincolnshire County Council to cut 25 managerial jobs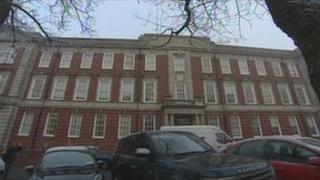 Lincolnshire County Council has confirmed it will scrap 25 senior management posts and outsource some services as part of measures to save £90m by 2018.
Since 2011, the council has cut more than 1,000 jobs in a bid to save £125m from its budget.
The Conservative-led authority said it would also look at restructuring some departments.
Unions have urged people to "rise up" to help protect frontline services.
'Worn down'
Council leader Martin Hill said the savings from the management posts would be in excess of £1m.
However, he said the authority, which is Lincolnshire's biggest employer, would look at how things "shaped up" in other areas, in a bid to save more.
He said: "There will be fewer people working for us and we've got to have a hard-headed look at what the council does."
Helen Stokes, Unison union branch secretary, said: "I think there will be a lot of anger but, to be honest, we are in the middle of severe austerity measures and I hope people will rise up to help protect public services.
"My concern is that people are feeling so battered and worn down that there isn't a lot of fight left in them," she said.
The authority has also taken a number of measures to reduce the level of services it offers, including handing control of some libraries to volunteers.