Paralympian Jade Etherington in line for Bourne freedom honour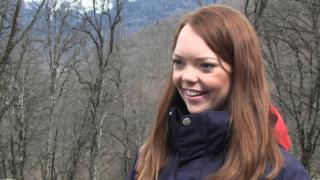 Skier Jade Etherington is set to become the first person to be awarded the freedom of her home town of Bourne, in Lincolnshire.
Etherington and guide Caroline Powell became the most successful British women in Winter Paralympic history, winning four medals in Sochi.
The visually impaired skier also became the first British woman to win a Winter Paralympic medal on the snow.
A civic reception in her honour will take place on 31 March.
'Exceptional achievements'
Bourne town clerk Nelly Jacobs said Etherington, 23, was an inspiration to children and young people everywhere.
She said Bourne Town Council would hold an extraordinary meeting on Wednesday to discuss granting the honour to Etherington for her "exceptional achievements at the Winter Olympics 2014 in Sochi."
She added: "I hope that this will be purely a formality as many of the members have already informally confirmed their support for this.
"The powers to grant the freedom of the parish were only given to us in 2009 and I feel it is important we make use of that."
The skier will also visit a number of local schools and attend a public event in the town ahead of the civic reception, which the council hopes will attract more than 2,000 people.
Etherington was born with glaucoma and the genetic eye condition Axenfeld Syndrome, and only teamed up with Powell, from Essex, at the end of last season, following a Facebook appeal.