Lincolnshire school meal company admits hygiene charges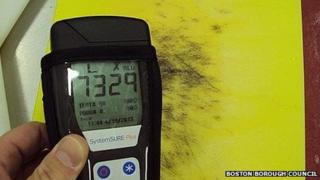 Breaches of food safety rules will be met with "decisive action", a council has promised after a school meal provider was fined by a court.
On Monday, Food for Thought GB, which supplied meals to primary schools in South Lincolnshire, was fined £13,800 after admitting 12 charges.
Boston Borough Council said officers twice visited its premises at Boston Trade Park in October.
The company said it had overhauled the site's management since the inspection.
Among various problems identified by inspectors were dirty and mouldy chopping boards, raw meat being stored next to cooked ham, and dirty floors, walls and cloths.
'High standards'
The firm, whose affected premises has since been cleared to provide meals again, was also ordered to pay £4,300 in costs.
Stephen Woodliffe, Boston Borough Council's portfolio holder for environmental health, said: "The public can be assured that this council will take very decisive action if it believes public safety is at risk.
"It is clear from the severity of the fines imposed here that the courts view this breach of public safety very seriously too."
Caroline Clark, operations director at Food for Thought GB, said: "Operating a total of eight sites throughout the county, this is the only one where any problem has been indicated and in fact all of our other sites have received only the highest rating in each district.
"We are confident that, following our senior management actions, the site immediately reverted to the highest of standards, as evidenced in our last official star rating of 5/5."
The company still provides school meals to 53 schools in Lincolnshire, although the unit affected by the court proceedings only supplies meals to 20.