Lincolnshire animal park rescues German circus tigers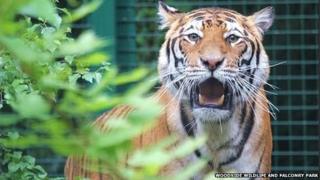 Two mistreated tigers from a German circus who were only hours away from being put to sleep have been rescued by a wildlife park in Lincolnshire.
The tigers arrived at Woodside Wildlife and Falconry Park overnight, following a campaign by park director Neil Mumby and his team to save them.
They are thought to be the only tigers on view to the public in the county.
Mr Mumby said: "They would have been destroyed straight away if the park had not intervened."
He said: "The Belgian and German authorities seized the tigers, which were bred in captivity in the UK, and a pair of lions from the circus after reports they were being mistreated about six months ago."
They were then housed at a temporary holding area in Belgium.
"They were in a quandary over what to do with them," Mr Mumby said. "A plea went out about where to put them and that coincided with us asking what direction we wanted the park to go in."
A team from the park shipped the big cats, a male named Tango and a female, Julia, from Belgium but were held up because of a strike by ferry workers in Calais.
Apart from a couple of private collections, these are the only tigers on view to the public in Lincolnshire, Mr Mumby said.
The animals are on display in the indoor section of a new enclosure built especially for them, before being allowed into the open-air section.
A family of Lynx were introduced to the park three weeks ago.
The park's keepers have recently been dispatched to partner zoos to learn how to care for the new arrivals.