Signal boxes on Lincoln to Spalding rail line to close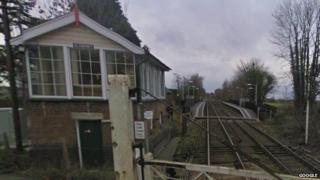 No trains between Lincoln and Spalding will run for 10 days as technology from the 1930s is replaced and five signal boxes closed.
Network Rail will improve four level crossings and update 19 miles of signalling as it continues work on the Great Northern Great Eastern line.
Signals will be run from a centre in Lincoln after the signal boxes have been closed.
One of the buildings, Blankney, has listed status so will be saved.
The 80-year-old mechanical signals will be replaced with electronic equipment and operated from Lincoln Signalling Control Centre.
Phil Verster, route managing director for Network Rail, said: "Demand for rail services continues to grow and the upgrade of this line is an important project to help meet that demand."
The level crossings at Scopwick, Rowston, Blankney and Sleaford North will be upgraded, including a new, safer, footpath at Blankney to Metheringham station.
Meanwhile signal boxes at Rowston, Scopwick, Sleaford South, Sleaford North and Blankney will be closed.
Trains between Spalding and Lincoln will resume on 15 April with a replacement bus service running in the meantime.