Moses the foal 'left for dead' in Mablethorpe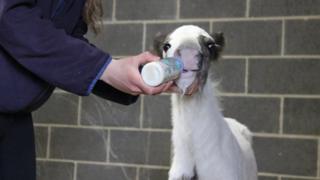 A newborn foal was "left for dead" and found trying to suckle on grass because he was so hungry.
He was named Moses, meaning drawn out or saved from the water, after he was rescued from a ditch by a vet.
Moses was about a week old when found in the cold and dirty ditch in Mablethorpe, Lincolnshire, on Thursday.
The motherless foal is being cared for by equine charity Bransby Horses and will be gradually introduced to a foster parent.
The RSPCA has appealed for the owner, or anyone who knows the owner, to come forward.
Sam Waterer, from Bransby Horses, said: "He's very weak. He was left for dead basically.
"When he was found he was seen suckling on the grass, trying to pull some nutrients from it to sustain himself until he was found."
The RSPCA believes the foal could have fallen into the ditch itself.
Moses has worms and also needs a blood transfusion. He has been bottle fed and is now moving on to a bucket with teats to mimic his mother's.
Miss Waterer added: "We need to get him stable. He's not out of the woods by any means."