Boston Stump burgled while recovering from flooding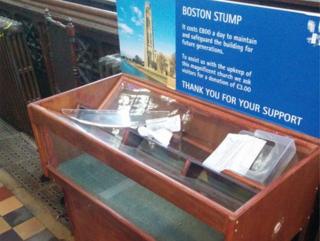 A church recovering from flooding has had its donation boxes raided by burglars.
Stained glass at St Botolph's Church in Boston, Lincolnshire, was also broken overnight between Wednesday and Thursday.
Michael Bartlett, of the Parish of Boston, said the thieves could have hidden in the church before it closed.
The church was flooded in December, when a tidal surge caused the River Haven to burst its banks.
It is known for its tall tower and people in the area call it the Boston Stump, or simply the Stump.
Mr Bartlett said: "Everyone connects with it in the town because it's such an iconic building, and everyone knows what we've been through with the flood.
"It looks like maybe they hid in the church once the church was closed last night and then they've broken their way out and broken some stained glass to get out."
Mr Bartlett said it was impossible to know how much money had been taken, but the church tended to get more donations on Wednesdays as it is market day.
"We are just right in the middle of this flood recovery and it's the last thing we need at the moment," he said.