Runaway Royal Mail van narrowly misses Lincoln glass-panelled house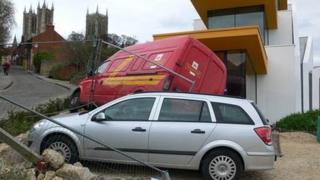 A runaway Royal Mail van has narrowly missed hitting a glass-panelled house in Lincoln after it rolled unaccompanied down a steep hill in the city's cultural quarter.
The van was being used for a delivery in Michaelgate when it rolled away and crashed through a fence, hitting a Vauxhall Astra.
No-one was hurt although there was damage to both vehicles.
Owner David Lewis said: "I came outside to find a van wedged on top of my car."
He said: "I've often worried about this because there is a bend in the road here, so if a car comes down the hill it will come on to my land."
However, Mr Lewis added that he was relieved the van had missed the glass porch of his three storey white and yellow house, which remains unfinished after years of work.
"When you have been struggling with this for seven years, this is a minor issue," he said.
Mr Lewis hopes work to install a moat around his house will finally begin next month.
Royal Mail said it was carrying out an internal investigation and was thankful that no-one was injured.