World War Two centre to be built at RAF Barkston Heath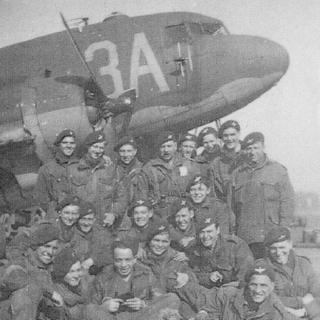 An education centre commemorating the role played by airfields in south Lincolnshire during World War Two is to be built at RAF Barkston Heath.
The site at Grantham will focus on the airborne offences of Operation Overlord and Operation Market Garden in 1944.
Squ Sgt Maj Ben Wildblood said he wanted the building to become a reminder of the part played by staff during the conflict.
Sgt Maj Wildblood also wants to raise £10,000 for a 2.5-tonne stone memorial.
He said: "Although Lincolnshire is well known as Bomber County, it also played a huge part in the two most significant operations during the war.
"There is currently no physical representation of RAF Barkston Heath and its airborne involvement in 1944.
"Our site will contribute to this year's [D-Day] commemorations, particularly for local veterans who cannot make it to Europe, and serve as a poignant educational reminder of the part both serving and non serving personnel contributed to the war effort."
RAF Barkston was the base for the crew and aircraft that participated in the ill-fated attack on the Rhine Bridges at Arnhem, the Netherlands, in September 1944.
The education centre is due to be unveiled on 31 May with a flypast by a Douglas C-47 Dakota aircraft.