Family's plea over illegal cigarette death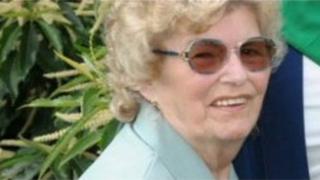 Relatives of a woman killed by a house fire started by an illegal cigarette have urged people to report anyone who sells them.
June Buffham fell asleep while smoking a Jin Ling cigarette, and her body was so badly burned she was identified through dental records.
The 71-year-old's inquest heard that many illegal cigarettes continue to burn when left unattended.
Mrs Buffham died at her home in Spalding, Lincolnshire, in April 2012.
Her daughter said she would never forget seeing the room after the fire.
"We looked towards where mum would have been sitting and there was nothing, absolutely nothing, just a bit of charred wood on the floor, a burnt area of carpet," said Julie Grant.
"The picture stays with you. It's an image that will never go."
Her father still lives in the house, but Ms Grant still struggles to go into the room where her mother died two years ago.
Mrs Buffham's relatives have backed a campaign to highlight the dangers of Jin Ling cigarettes and not putting cigarettes out properly.
Her daughter said: "Mum always smoked but we didn't know what cigarettes they were.
"We certainly didn't know that they were illegal. All we knew is that they were a cheaper brand."
She urged people not to buy them, and to tell the authorities if they know of anyone selling them.
"They are just doing it for their own financial gain and they are not worried about human beings at all," she said.
"It's got to be stopped. I wouldn't wish this on my worst enemy. No other family should have to go through this."
Emma Milligan, a trading standards officer at Lincolnshire County Council, said: "Jin Ling cigarettes are so dangerous because they don't go out when not actively being smoked, potentially causing a horrendous house fire, like the case here."