BBC newsroom gets confidential prison record in post blunder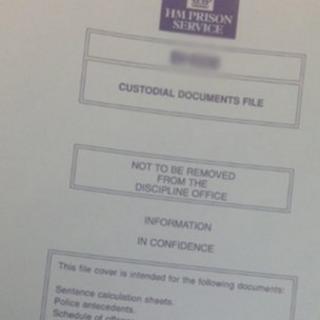 A confidential record containing details of an inmate at Belmarsh prison was accidentally sent to a BBC newsroom.
It was addressed to an engineer at BBC Radio Lincolnshire, who opened it thinking it was a computer part.
The Ministry of Justice (MoJ) is investigating how the document was sent to the wrong address.
TNT, which delivered the document, said it would ensure a "mistake like this cannot happen again".
The company has launched its own investigation.
'Very concerned'
HMP Belmarsh holds prisoners sentenced in London and also category A prisoners - the highest security category - from elsewhere.
Charlie Partridge, station editor of Radio Lincolnshire, said: "When we realised it was confidential I took it into my office and I rang HMP Belmarsh and spoke to their office there, who were very concerned.
"They asked me to send it back to them as soon as possible, which I have done."
The BBC posted the document back to the prison - via Royal Mail - at a cost of £8.
A MoJ spokesperson said: "We take the security of information very seriously and this incident is being investigated as a matter of urgency."
A spokesman for TNT said: "We will be keeping BBC Radio Lincolnshire and the sender and intended recipient of the package fully informed of our findings and any measures we put in place to ensure a mistake like this cannot happen again."
Mr Partridge added: "We are still waiting for our computer part."