Lincolnshire pushes ahead with library changes despite review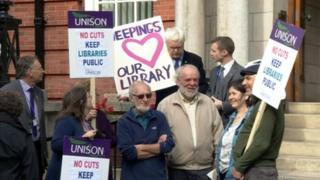 A council is pressing ahead with plans to put volunteers in charge of libraries, despite an ongoing High Court judicial review into the move.
Lincolnshire County Council has said community groups have come forward to take over 30 libraries.
The plan could save it £2m but will see 100 staff lose their jobs.
Julie Harrison, from Save Lincolnshire Libraries, which called for the review, questioned the move, saying their legal bid had a "strong case".
"I am not quite sure why the council is rushing ahead at this pace with a judicial review pending," she said.
'Chomping at the bit'
Under the plans, up to 40 libraries will be run by community groups, with the council continuing to staff 15 larger libraries.
Groups that have come forward, include parish councils, community centres and the Lincolnshire Co-op.
Three areas without libraries - Barrowby, Ingoldmells and Navenby - have been told they can set up new facilities.
The future of four libraries - Kirton, Keelby, the Deepings and Sutton Bridge - is yet to be agreed. If no-one comes forward, they could close.
Councillor Nick Worth said he was "confident" about the outcome of the judicial review.
"Some communities are already chomping at the bit saying, 'Can we get going?' And we are saying, 'no, we have to wait for the outcome'."
From Tuesday 6 May, libraries across the county will see a 40% reduction in opening hours to give community groups time to get ready to take them on, he said.
"When they do take them on, there will be longer hours, probably longer than they have got already, probably a better service than they have got right now."