Tourism plan for sale of The Lawn in Lincoln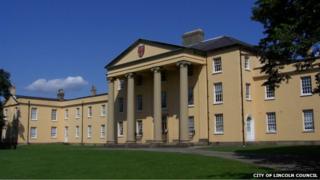 Plans are being drawn up to buy a former asylum in Lincoln and develop it for community use and tourism.
The City of Lincoln Council is trying to sell The Lawn for a second time, with a guide price of £1m.
It was used for events and conferences after the council bought it in 1986, but the council said it cannot afford to invest in the now-vacant building.
The Sir Joseph Banks Society and several organisations are considering working together to buy and run it.
It said it had had a lot of interest from various parties, including the city's universities.
Paul Scott, honorary secretary of the society, said: "It's a massive asset for the city and we would also like to see it become the third piece in the jigsaw of uphill Lincoln and all the tourism that area generates."
The grounds contain the Sir Joseph Banks Conservatory, which is why the Sir Joseph Banks Society became involved.
It is looking at how The Lawn could be developed for greater community, tourism and commercial use, including possibly creating an open air auditorium.
The council tried to sell it two years ago to save money but turned down the only bid it received.
Andrew Taylor, the council's chief executive, said there was a "lack of synergy" between the bidder and the council's vision for the site.
A petition has been set up to stop the sale of The Lawn for a second time, calling on the council to develop the property into a tourist venue itself.
Petition founder Phil Gresham said it was currently underused.
"It's a good heritage area that could be developed and it could be earning money for Lincoln," he said.
A council spokesman said the petition would be debated by the full council if it reached 900 signatures before it closed on 5 September.
"If it reaches 450 signatures then a request can be made that a relevant senior officer gives evidence at a Policy Scrutiny Committee meeting," the spokesman said.