Sir Joseph Banks film to be made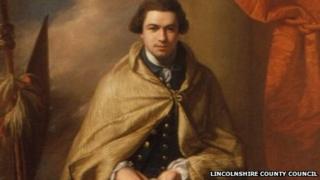 The explorer Sir Joseph Banks, who accompanied Captain James Cook on his first voyage, is to feature in a film.
The 18th Century botanist sailed with Cook to the uncharted lands of the South Pacific, including Tahiti, New Zealand and Australia.
Lincolnshire-based Red Dog Film said although he was celebrated in some parts of the world, he remained "largely unknown" in the UK.
Director Philip Stevens said Banks's story deserved to be told.
He said the film, which Red Dog hopes will be shown on TV, aims help to make people aware of his achievements.
'Greatest panjandrum'
The period drama will show an elderly Sir Joseph being interviewed about his life by a young botanist - and will feature a series of flashbacks and significant moments from his life, said Mr Stevens.
He said the 40-minute drama would be "bookended" by two 10-minute documentary sections and include an interview with Sir David Attenborough, who is patron of the Joseph Banks Society.
Sir David said of Banks: "I think he was a very important figure in the history of science and in the history of this country - and more should be known about him.
"He was the great panjandrum of science and he was also elected to the Royal Society where he remained president for 40 odd years."
'Braveheart on its head'
Banks became president of the Royal Society in 1778, promoting the career of many scientists, and in his capacity as director of the Royal Botanic Gardens at Kew sent many botanists abroad to find new plants and extend the Kew's collection.
His name was given to the Banks Islands, a volcanic group of islands near Vanuatu in the Pacific.
Mr Stevens described him as a fascinating character who had become more intriguing the more he found out about him.
He said the film would be like "turning Braveheart on its head".
"It's a great movie [Braveheart] but the majority of information is incorrect."
He added that the team plans to make the film, titled The Banks Endeavour, in Lincolnshire, London and Australia.
The film follows an exhibition at the Collection museum in Lincoln, which was funded by a £140,000 HLF grant.
The exhibition featured a selection of Maori weapons and a Tahitian chief's headdress collected by Sir Joseph Banks during the voyage.