Nigel Constable detained indefinitely for killing mother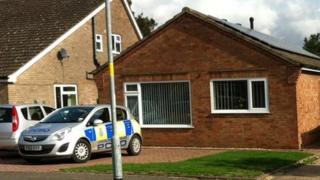 A "loving" son who killed his mother while suffering an epileptic fit has been detained indefinitely after a jury decided he was insane.
Nigel Constable, who has a history of violent epileptic seizures, had no recollection of attacking his widowed mother Betty, 79.
The assault left her with "catastrophic" head injuries from which she later died.
Constable was deemed insane by a jury at Lincoln Crown Court.
During the trial, both the prosecution and the defence accepted that Betty Constable was killed by her son but he committed the fatal act when he had no control over what he was doing.
The jury heard the 52-year-old, of Sherburn Road in Brighouse, West Yorkshire, had epileptic seizures for more than 30 years but they had doubled in frequency in the period leading up to his mother's death as a result of stress brought on by problems over his benefits and housing.
'Victim of epilepsy'
The court was told he was a loving son and had travelled to his mother's home in Dunholme, near Lincoln, to help her with her garden on the weekend of her death, in September last year.
The jury found him not guilty of murder by reason of insanity. Constable, who was not in court for the verdict, will now be detained in a secure hospital.
Andrew Campbell-Tiech QC, defending, described Constable as "a victim of epilepsy".
He said: "Not guilty by reason of insanity to a charge of murder does not mean Nigel Constable is at liberty.
"It means that he will no longer be imprisoned. He will as a matter of law be confined to a secure mental institution indefinitely."
Speaking after the trial Mrs Constable's daughter, Maureen Anthony, said: "As a family we would like it to be known that my brother loved his mother dearly and this devastating and tragic event has been the result of my brother's health care for over 40 years.
"We hope that no other family ever has to experience anything like this, but until care for the mentally ill improves in this country, unfortunately they will."
She added: "My mother will always be in our thoughts as we move forward and continue to support Nigel in any way possible."
Det Ch Insp Martin Holvey, of the East Midlands Special Operations Unit, said that he hoped the outcome of the case was of some comfort to Mrs Constable's family.