Sleaford teenagers sexually attacked 'by same man'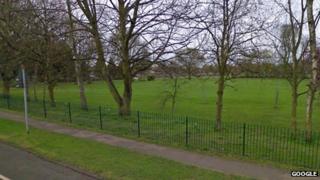 Two separate sexual attacks on girls in a small Lincolnshire town are thought to be by the same man, detectives said.
Police launched an investigation into a sexual assault on a 13-year-old in Sleaford earlier this month.
A second attack, in April, on a 14-year-old girl in a nearby park, then came to light.
Detectives believe a man in his late 50s, 5ft 6in tall and with grey hair, is responsible for both attacks and have appealed for witnesses.
The first attack was at the town's recreation ground, in Boston Road, on 29 April.
Two 14-year-old girls were approached by a man who then indecently touched one of the teenagers. They shouted at him and he ran away.
The attack was not reported until last week, after the start of the investigation into the attack on the 13-year-old.
She was cycling in woodland between St Edmunds Road and Ancaster Drive when she was indecently assaulted by a man on 4 May between 14:00 BST and 15:00.
The attack was reported on 7 May.
Det Insp Pete Grayson said he believed the same man was responsible and appealed to anyone who was in either area at the time to come forward.