Three toilets stolen from different locations in Spalding area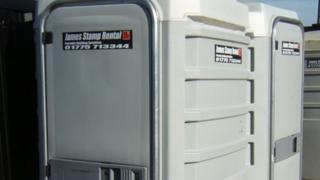 Three portable toilets have been stolen from farmland and a building site in Lincolnshire.
Two of the thefts happened this week at a farm in Pinchbeck and at a building site in Moulton.
A third workman's privy was taken from a cauliflower field in Spalding last month.
James Stamp, whose firm's toilet was taken from a site in Church Lane, Moulton, said "if they will steal a used builder's loo, what's next"?
'Down the pub'
He said an organised gang could have been responsible.
Mr Stamp said: "Usually if organised, these are part of large plant theft rings - where mixers, dumpers, loos and excavators are stolen to order in one hit, shipped to Eastern Europe, or Africa.
"Occasionally petty thieves steal them, wait for a while then try to list them on eBay, or in their local supermarket."
He added: "I've looked at embossing the loos with my name to discourage theft, although I'm not sure a builder in Botswana would care what his cheap loo said on it."
Mr Stamp said a used toilet was worth about £450, or could be sold "down the pub" for about £100.
Lincolnshire Police said it was an unusual crime and have appealed for information.