Horncastle shops face banner legal threat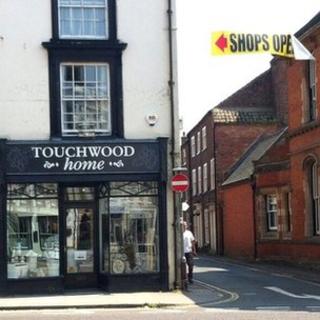 Two businesses in a Lincolnshire town are facing legal action over a banner they did not install.
Touchwood interiors and Wilkins Chapman solicitors on either side of Bank Street, Horncastle, have been told to remove the yellow "Shops Open" sign as it breaches conservation area rules.
But both have pointed out it was put up without their knowledge by a councillor who had since died.
East Lindsey District Council said it was acting on a complaint.
Paula Chapman, who runs Touchwood, felt the situation was unfair as she did not ask for the sign to be put up and she does not own the building.
'Horribly wrong'
"It's an absolute joke," she said. "It is bolted to the buildings, on wires, about 20ft up. I don't have the equipment to do that and I'm five-foot-nothing.
"It is ridiculous, it is between the town council and the district council. If they come for me I will fight them all the way."
The town mayor, councillor Sandra Campbell-Wardman, said the sign was put up in 2013 on the initiative of Councillor Steve Newton, who has since died.
"It was put up to promote the businesses during the So festival," she said. "It's a shame such a kind and thoughtful gesture has gone horribly wrong.
"The businesses shouldn't be liable and there is nothing stopping East Lindsey taking it down."
In a statement, East Lindsey District Council said the law on advertising is clear and the sign should not be there and it had written to tenants and landlords of the buildings concerned asking them to make arrangements for the sign to be removed.