Lincoln Castle Revealed project: Magna Carta vault nears completion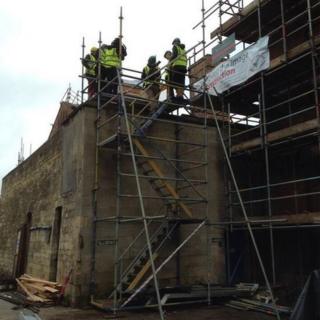 Work to create a multi-million pound vault to house the Magna Carta in Lincoln has reached a milestone, which was marked by a "topping out" ceremony.
The £22m Lincoln Castle Revealed project has now entered the final phase of its four-year scheme.
It includes a high-security, underground vault, where an original copy of the document will be displayed alongside the Charter of the Forest.
A cinema and new visitor centre will also be opened as part of the scheme.
The final beam was placed in the roof of the vault during the ceremony, which dates back to Viking times.
Lincoln's copy of the Magna Carta is one of only four surviving originals of the 1215 document.
Once the vault is opened, in time for the 800th anniversary, it will also house the Charter of the Forest which was issued with the Magna Carta in 1217.
It set out the rights of people living in royal forests and is one of only two in existence.
The final phase of the project is the restoration of Lincoln Castle Prison, which has now begun.
This weekend, members of the public can join behind-the-scenes tours of the conservation work.