Play School Humpty toy branches out into charity work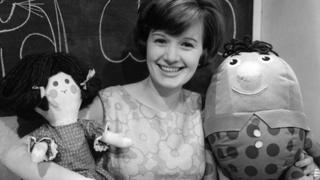 An original Humpty toy from children's TV show Play School is branching out into charity work after being sold at auction for £6,250.
His new owners, a school photography business in Lincolnshire, said they've been overwhelmed by requests for Humpty to make personal appearances.
Several offers have been made by people wanting to buy Humpty from his new owners, with one for about £10,000.
But his new owners have insisted Humpty is not for sale.
Martin Wrate, from photographers Wrates Bagley, told BBC Radio Lincolnshire: "We've become attached to him really.
"We were sharing him from house to house and office to office. We were phoning up asking questions about him."
The business is looking for a suitable container to carry Humpty in.
"We feel really guilty about putting him in a bag," said Mr Wrate.
"My daughter told me off. You have to leave an air hole."
Bonhams, which auctioned the toy, said he was one of three originals made for Play School, and was so popular that he received fan mail.
The egg-shaped toy was based on Humpty Dumpty from the nursery rhyme, and first appeared in 1964.
New owner Glyn Bagley said people have queued up to be photographed with Humpty wherever he has been.
"Humpty was the main character, let's face it," he said.
Humpty will raise money for Cancer Research, Children in Need, Beaumont House in Newark and Skegness RNLI Lifeboat Station.