Lincoln's Newport Arch reopens after £140,000 renovation project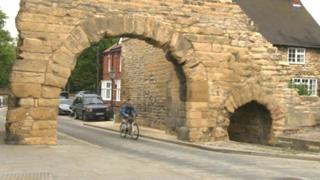 A Roman arch in Lincoln has reopened after a £140,000 renovation project to repair it.
Newport Arch, which still allows traffic through, formed part of the old city walls and had been damaged by recent cold and wet winters.
Officials described it as the largest restoration project at the arch since May 1964, when a lorry crash caused extensive damage.
It was opened earlier by the mayor of Lincoln, Pat Vaughan.
Linda Wardale, chair of the Bailgate Guild, which supported the project, said: "I think it's amazing - and I think our Roman ancestors would have been really proud of the work that's been carried out."
She added: "The work needed to be done - it was dangerous - the last thing we wanted was for someone to be walking through and it collapse."
In 2012, the arch was put on English Heritage's At Risk programme, which helped attract funding.
Newport Arch is said to be the only Roman arch open to traffic in the UK.
The city council secured a £60,000 grant through Waste Recycling Environmental Limited (WREN) and earlier this year, paid out an extra £80,000 for the project after contractors found other issues with the structure.