Boston floods: Tidal surge warning was 24 hours later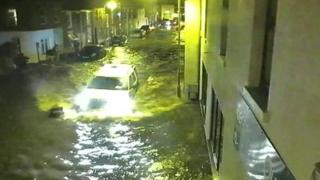 The flood warning for last year's tidal surge came 24 hours later in Lincolnshire than the rest of the east coast, a report says.
More than 600 homes were flooded and some 40 people had to be rescued when defences were breached on 5 December.
The geography of the county meant the warning came just 12 hours before the surge struck, causing the worst event of its kind for half a century.
The report concluded the authorities responded well but "were lucky".
David Powell, head of emergency planning in Lincolnshire, said despite the delay they managed to deploy enough staff for the largest operation of its kind since the flood of 1953.
He said it was difficult to predict how hard the surge would hit Lincolnshire until reports came in from Scotland and the north of England.
But he added: "I'm not sure we could have reduced the damage tremendously from what is a weather event."
Officials published its report into the flood and presented it to the county council.
The report also detailed the amount of damage the floods did to the county, particularly Boston where more homes were damaged than anywhere else in the UK.
Almost 2,000 acres of farmland were submerged, hundreds of residents were evacuated from their homes, 44 people and two pets were rescued, and millions of pounds of damage was caused after 21 miles (20km) of flood defences were overtopped.
The report concludes that the warning system worked well with 30,300 properties warned of the potential flood.
Its recommendations include creating a website for agencies to share information, an information book for victims, as well as securing funds to improve flood defences.