Lincoln Castle archaeologists reveal details of human remains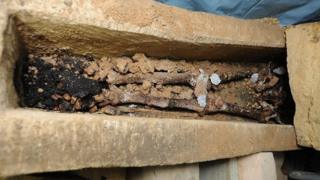 Archaeologists have revealed more details about skeletons found on the site of an old church at Lincoln Castle.
One skeleton was discovered inside a stone coffin during an archaeological dig ahead of renovation work.
The remains were found alongside a previously unknown Saxon church with nine other skeletons.
Project manager Mary Powell said the research had uncovered "all sorts of interesting things".
"We are now beginning to learn more about these people, it is as if they are almost star ting to develop personalities," she said.
"There are four men, three adult females, two teenagers and one child."
The skeleton found in the stone coffin could belong to a Saxon king or bishop, according to the team.
Mrs Powell said: "The man in the sarcophagus died in his early 20s and showed evidence of having rickets as a child and had diseased legs at the time of death."
"He was probably in considerable pain," she said.
One of the teenagers had a blade wound sustained at about the time of death and three of the adults had an extra vertebrae.
Mrs Powell said this was not uncommon but perhaps pointed to the fact they may have been related.
The skeletons are thought to date from about AD 900.
The dig was undertaken as part of the £19.9m Lincoln Castle Revealed project, which will see the building of a new centre to house Lincoln's Magna Carta and a tower to provide access to the castle walls.
The project is due to be completed in 2015, when many of the finds from the dig will be put on display.