Plans for 970 new homes on Louth's Legbourne Road resubmitted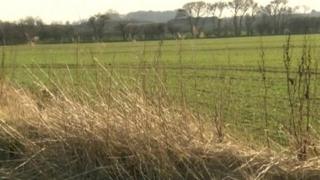 Plans for hundreds of homes in a Lincolnshire town have been resubmitted after being turned down by the district council earlier this year.
The application for 970 houses in Louth was rejected by East Lindsey District Council because of concerns over the size of the project.
A project spokesman said the new application addresses traffic and other concerns, but does not reduce its size.
Planners are expected to deal with the application in the next few months.
Bus service
Andy Booth, from Globe Consultants, said his client Gladman Developments was willing to provide a subsidy for a bus service to the new site.
He said the development, if approved, would be phased in over a period of five to 10 years.
Council planners recommended approval of the earlier application, but councillors rejected it over concerns about its impact on the town.
If approved, it would increase the town's housing stock by about 12%.
The 150-acre Legbourne Road site would include community facilities and open spaces, along with 970 homes and a school.