Jubilee Park protest camp against Rally Field housing plan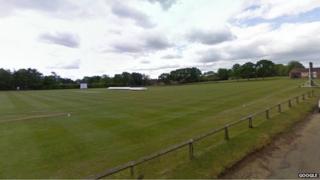 Families occupied a field described as a "much-needed community asset" in protest at an application to build housing there.
The Rally Field is part of Jubilee Park in Woodhall Spa, Lincolnshire, and is used for camping and events.
Waterloo Homes has applied for planning permission to build 19 homes on it, and said this would address a need for social and affordable housing.
But the Friends of Jubilee Park said other sites were better for homes.
Up to 200 people took part in the protest rally on Friday evening, and about 40 camped there overnight.
Jon Finley, from the group, said: "A number of the events that happen in Jubilee Park rely on this kind of area to actually support them.
"With losses of this kind of area, those kind of events will be put in jeopardy."
Mr Finley said the Rally Field provided "vital additional revenue" to keep the rest of Jubilee Park open.
'Heart and soul'
Tim Peacock, a trustee of Jubilee Park and a governor at nearby St Andrew's Primary School, said considering the site for housing development "seems to make no sense at all."
He said school governors "adamantly object" to any development of Rally Field, particularly one that would lead to an increase in traffic, affecting children's safety.
"Jubilee Park and its wider environs, the cricket pitch, the Rally Field, is very much the heart and soul of Woodhall Spa," he added.
"It's what makes this place special."
East Lindsey District Council, which owns the field, said its decision on the planning application would not be influenced by the money it could make from selling it to Waterloo Housing.
The planning application states the scheme has been "specifically designed to have minimal impact on neighbouring properties".
It adds that the development would "enhance the site and add further character to the village".