Keeping Magna Carta safe in the United States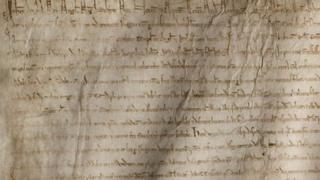 A cloak of secrecy surrounds the transportation of Lincoln Cathedral's original copy of the Magna Carta on a tour of the United States. But who is the man that looks after this precious cargo and how will he keep it safe?
Specialised equipment, a whopping insurance policy and armed guards - just some of the factors for Chris Woods, director of the National Conservation Service, to consider when he sets off from a secret location to board a plane bound for the US.
The document, which is 800 years old next year, was drawn up to protect the rights of the king's subjects and is widely recognised as one of the inspirations for the US's Bill of Rights.
The Lincoln copy is one of only four surviving originals - two are held at the British Library and the other at Salisbury Cathedral.
Intense secrecy has surrounded the mission - it is travelling on a commercial flight from an undisclosed airport and has even been given its own "well padded cupboard".
Armed security guards have been secured to greet its arrival at a US airport - again undisclosed - ahead of it going on display in Boston on 2 July.
However, even this level of security is less than was employed when the priceless charter was previously taken on tour.
"There was a time when military jets flew it around, with army escorts and police helicopters," he said. However, this attracted "unwanted attention" and now secrecy is king.
Mr Woods said a lot of planning and detail had been involved in ensuring its safety. Firstly, detailed photos were taken to record the condition of the document, including looking for any changes in the inks and fibres.
It was then packaged in a steel case with insulation and temperature control.
"There are lots of little details we have to get right - probably the biggest challenge is making sure we remember everything, things like not leaving the keys for the case behind," he added.
"The document is kept in a frame - which is sealed to provide a stable environment to protect against humidity."
But what does it feel like to be in charge of such a precious document?
"It's a great honour and wherever I go people involved get very excited because it's such a special thing," he said.
"It's often been considered our greatest export because of what it stands for, things we take for granted in this country sometimes."
However, he stressed the most important part of the job was ensuring the conditions were just right at the location where the document was going on show.
"When it gets to a museum I will make sure the display case is working and do a condition check to make sure everything is ok."
"We keep it at a relatively low humidity of 40% - and we try to maintain control over the temperature as much as possible, 12-15 degrees centigrade," he said.
"We will accept the temperature being a bit higher, but we make sure we have complete control over the humidity. Changes in the humidity are its worst enemy."
Excess humidity could cause the parchment to grow when it took on moisture, which in turn could put the inks at risk and cause it to go mouldy. The bacteria would then grow and destroy the medieval manuscript.
"If it were too dry - the document could shrink, with a further risk of ink flaking off," he added.
High temperatures and sunlight could also damage the fibres and cause the inks to fade.
Mr Woods will be able to monitor the humidity of Magna Carta from thousands of miles away using his smart phone, and if necessary ask staff at a museum to make changes.
The tour will see Magna Carta take its place among other items telling the story of those who fought for freedom across the centuries.
It will visit the Museum of Fine Arts in Boston, the Sterling and Francine Clark Art Institute in Williamstown, Massachusetts, and the Law Library of Congress in Washington DC, among others.
Graham Gund, director of the Museum of Fine Arts in Massachusetts, said Magna Carta would help Americans learn about "the founding of this great nation and the development of civil rights and liberties both here and abroad".
"I am incredibly proud to bring Magna Carta to Boston, where it inspired so many to action, and am grateful to Lincoln Cathedral for this extraordinary loan," he said.
"This foundational document will hold a place of honour among American masterpieces and colonial treasures that bring some of the Commonwealth's most famous patriots to life."
The Dean of Lincoln, the Very Reverend Philip Buckler, said he had no fears about the safety of the document and was looking forward to seeing the reactions of Americans who saw it.
"It's fascinating to watch how people react to the document when they see it," he said.
"You see all the kids pouring out of bright yellow buses into the venues prepared for something very exciting.
"I even saw one teacher in tears who told me 'I never thought I'd see this - wait till I tell the kids about it'."