Skegness chain hotel plans prompt eyesore fears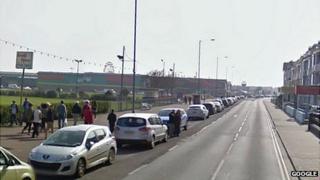 Hotel owners in a Lincolnshire resort have voiced fears that a national chain moving in could damage the town.
A developer has approached East Lindsey District Council about land it owns in a seafront site next to Skegness pier.
Independent businesses nearby insisted they were not afraid of competition but were worried a large building would spoil the seafront.
KCS Developments Limited said plans were at an early stage but the town needed investment.
Steven Godbehere, who owns the Quorn Hotel on North Parade, said: "The majority of our guests come for the views - the foreshore is vital for Skegness, we need it in Skegness.
"If we start losing it to brick buildings then it is not going to be very popular and our holidaymakers may go elsewhere".
Rumours denied
Nigel Underwood, who owns the Savoy on the same road, said: "There are ten hotels with hundreds of rooms within 200 yards of my hotel, we are used to competition.
"Broadly speaking, a national hotel chain would be good for the town but we have to be sensible about the location.
"The foreshore should be for attractions, amenities and something that encourages people to come back".
Craig Leyland, from East Lindsey District Council, said: "A national chain would bring a different market into play for Skegness and that is something we should be encouraging.
"These chains have apprenticeships and good training schemes which would benefit everyone".
The council also said rumours of five or six storey buildings were premature.
KCS Developments Limited declined to confirm the identity of the chain but emphasised that as part of the planning application they would work with the district and parish councils, along with business forums and their views would be taken on board.