Bomber Command centre plans approved for Lincoln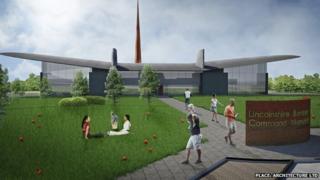 Plans for a £5m visitor centre telling the story of Lincolnshire Bomber Command have been approved.
The centre, overlooking Lincoln Cathedral, will be built to "echo the crouching beauty" of the Lancaster bomber, those behind the project said.
It will be named after the aircraft's designer, Roy Chadwick, and tell the story of more than 55,000 personnel killed in World War Two.
A "memorial spire" will also be built as part of the plans.
The Lincolnshire Bomber Command Memorial Trust said the plans, approved by North Kesteven District Council, were "hugely important".
Nicky Barr, from the trust, said: "It's a fantastic site, and the idea has always been to make it grab people's attention and let them know how proud they should be of the county they live in."
She said: "It's taken 70 years to get this recognition and while there wasn't a base in Lincoln - the cathedral was the last landmark a lot of these guys saw who never came home."
"It was also a marker for those coming home for them to know they were safe."
The park will be a fully landscaped, with a tree-lined avenue leading down to the spire.
The steel spire was to have been 50m (164ft) tall and engraved with the names of the 25,611 airmen who died while based in the county.
But organisers said people had shown they wanted the names to be more accessible and placed at ground level.
This has led to the spire itself being reduced to 31m (102ft) - the wingspan of a Lancaster bomber.
Fourteen sculptures representing each of the nations that took part in raids will also be created in the grounds, along with native trees to represent 27 Bomber Command stations in Lincolnshire.
Fundraising towards the centre's full £5m cost is ongoing but work is due to start in August with part of the site being open by summer 2015.