English duo to defend egg throwing title in Lincolnshire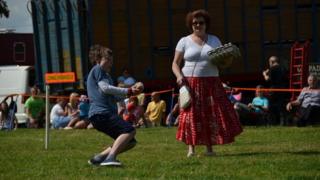 Hundreds of competitors from Europe and Asia are expected to compete in the ninth World Egg Throwing Championships in a Lincolnshire village this weekend.
Teams from Germany, Slovenia, Hong Kong and Brazil will be among the participants at Swaton Vintage Day.
The events include target throwing, two-person throw-and-catch, static relay and Russian egg roulette.
Richard 'Titch' Wells and Tom 'Ginge' Harrison from Lincolnshire will defend their title in the two-person event.
The world record in the two-person throw is 75m (246ft) set by a Dutch duo in May.
The defending champion English pair had a toss of 57m (187ft) in 2013 and will attempt to break the new world record set by the Smink brothers in Holland last month.
Money raised at the event is used to support local, national and international charities including Leukemia Research, the Red Cross and Shelter Box.
Organiser Andy Dunlop said some eggs launched in the final event - the trebuchet, which is a form of catapult - can travel at a top speed of 120mph (193km/h).
"The Germans stand a good chance at thrashing the Brits this year - they have been doing a lot of practice - we might even get a new world record this year," he said.
The organisers invited Canadian pop singer Justin Bieber, who allegedly threw an egg at his neighbour's house in California, to attend, but he has not responded, Mr Dunlop said.
"You should really only throw eggs in competition and not at people's doors," he added.
Mr Dunlop said he expected about 300 competitors and 12,000 spectators and hopes to raise at least £12,000 for charity.