Skegness station reopens after £720,000 revamp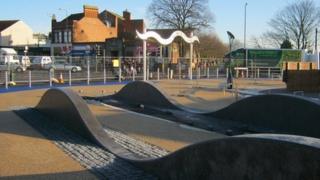 Skegness railway station has been officially reopened following a £720,000 revamp - three-and-a-half years after work began.
The project included the building of a plaza, an information kiosk, and a new Jolly Fisherman statue, the resort's mascot.
Work was delayed after a boy on a bike was injured riding over a wave sculpture in the plaza.
However, Lincolnshire County Council said the station was now transformed.
Colin Davie, from the authority, said: "Visitors are no longer met with derelict buildings with boarded up windows and an abundance of pigeons perched on every roof truss."
He said that about a million people a year use the station and it was vital that it provided a "welcoming environment".
Mr Davie previously apologised for the delays - describing the problems with the wave sculpture as "health and safety gone mad".
It was cordoned off in February 2012 after the accident, but has since been coated with studs to prevent people riding or skating over it.
A new statue of Jolly was winched into place in December - again following a delay.
Officials had failed to agree on the design of the sculpture, with one suggestion from the county council being described as "like a gargoyle" by Skegness Town Council.
The mascot first appeared on a 1908 railway poster advertising the Lincolnshire coastal resort.