Lincoln family receive payout after GP missed husband's cancer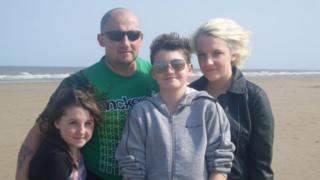 The family of a Lincolnshire man who died after his bowel cancer was misdiagnosed, have received an undisclosed sum in compensation.
Mark Browne, 46, died in 2012 after he was told he only had piles.
His GP at the Birchwood Medical Practice in Lincoln, Dr Nicholas Smith, failed to spot a rectal growth in 2008 and last year admitted liability at the High Court in Nottingham.
The family lawyer said Mr Browne could have survived with a correct diagnosis.
'Truly upsetting'
Mr Browne's widow and three children have now received an undisclosed sum in compensation.
The High Court declared Dr Smith had not taken into account Mr Browne's symptoms and failed to carry out a correct examination.
As his symptoms continued, Mr Browne went to a different GP nine months later and was immediately referred to hospital.
"Mark first came to me having been misdiagnosed and it has been a truly upsetting case seeing him go through all the suffering," said the family's solicitor Neil Clayton.
"He was the main breadwinner and wanted to be sure that his wife and children didn't suffer financially after his death. He also wanted to highlight how important it is mistakes like this aren't made.
"Dr Smith hadn't admitted liability before [Mark] died - he died not knowing if his family would be cared for financially."
Mr Browne's widow Teresa said no amount of money would bring back her husband.
She said: "This is something that Mark wanted so we have grouped together and pushed for it.
"Mark was a fighter and throughout he said to us 'keep going'."
Mrs Browne said her husband "put complete trust in his GP" and believed him when he was assured that nothing was seriously wrong.
"My advice to anyone is don't be macho. Listen to what your body is telling you and get checked out."
Manjit Darby, director of nursing and quality at NHS England (Leicestershire and Lincolnshire) said the organisation would be reviewing the details of Mr Browne's case.
She said: "We take extremely seriously any incidents where a patient suffers distress or harm whilst in the receipt of NHS care and we will be reviewing the details of this case further to determine any appropriate action that needs to be taken."