Driver jailed after blind bend overtake kills couple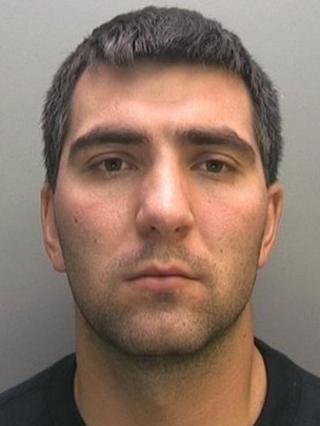 A driver who killed two people after attempting to overtake on the approach to a blind bend has been jailed.
Andrei Botnari pulled out to overtake a van and a lorry on the A607 near Fulbeck, but drove straight into the path of an oncoming car.
Geoffrey Cook, 60, and his wife Jill Trail , 59, were both killed after a massive impact to their MG car.
Botnari, 29, was jailed for 32 months and banned from driving for three years.
Lincoln Crown Court heard the crash happened as Mr Cook and his wife were driving back to their home in the neighbouring village of Caythorpe - in between Lincoln and Grantham.
Jonathan Straw, prosecuting, said: "This defendant embarked and persisted in a lengthy, dangerous overtaking manoeuvre immediately prior to a blind bend."
Afterwards, Botnari remained at the scene and admitted he was responsible for the fatal collision, saying: "I've killed two people. It's my fault."
Mauro Maselli, defending, said Botnari had no previous driving convictions and apologised for the incident.
Botnari, of Main Road, Leadenham, admitted two charges of causing death by dangerous driving as a result of the crash on 28 September 2013.