Lincoln Eastern Bypass rejected by transport secretary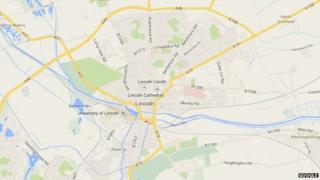 A £100m bypass to ease congestion in Lincoln has been rejected by the transport secretary.
The city's long-awaited Eastern Bypass was rejected by Patrick McCloughlin MP because of a lack of pedestrian access.
Plans for the scheme, to link Wragby Road, north of Lincoln, with the A15 Sleaford Road to the south, will have to be revised and resubmitted.
Councillor Richard Davies, cabinet member for highways, said he was "completely gutted" with the decision.
Work on the road was expected to start later this year but plans were rejected following a planning inquiry on Tuesday.
'Fresh application'
The design of a bridge over part of the route on Hawthorn Road - which links Wragby Road and Cherry Willingham - was the main issue identified by inspectors.
A spokesman for the Department of Transport said: "The Secretary of State has accepted the independent inspector's conclusions that Lincolnshire County Council's plans for a bypass did not make adequate provision for pedestrians and cyclists wishing to access Hawthorn Road, via a footbridge.
"The council is welcome to consider these conclusions and submit a fresh application."
Mr Davies said: "We are hugely disappointed and a little bit surprised that the inspector has taken that view."
He said Mr McCloughlin should have "come back to us directly" to resolve any issues raised by inspectors.
"The inspector is concerned about the safety of people crossing the footbridge.
"She felt there was inadequate distance and visibility between the cycle path that comes over the bridge to join Hawthorn Road, and the bypass slip road.
"We will look to redesign the bridge and satisfy the inspector's concerns."
The road was to be funded by the government with contributions from the county council and developers.