Boston Stump £2m development plan revealed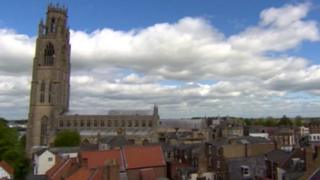 A Lincolnshire church famed for its tall tower is to be developed to make it more appealing to tourists and the community.
The development of Boston Stump would include a labyrinth to link the church with a new visitor centre.
There would also be a children's play area in the shape of the church, with the building's extraordinarily tall tower becoming a slide.
The church is one of the largest parish churches in England.
Its 272ft (83m) tower is one of the tallest, and led to the church being known as Boston Stump.
Director of operations Michael Bartlett said: "We think that [the development] would really help develop the visitor economy, create new jobs in the town and make tourists really want to come here.
"In the hall we are looking to offer some facilities for children, a soft play area, which is really designed for the town to use, so this is not just about tourism, it's about making a better space for everyone."
The church is currently being restored, but the restoration was set back when the town and church were flooded in December.
The new development plans will be on display in the church from 17 July to 5 September.
The church is asking for up to £2m from the Heritage Lottery Fund.
The plans include new glass doors to make the church seem more open and encourage people to come inside.
A new, smaller, chapel will be created for smaller weddings and funerals.
Some of the church pews will also be removed to create a "learning and interpretation space" telling the stories of historical characters related to the church.
Puritan emigrants from Boston founded Boston in the US, which has since far surpassed the English town in size.