Family of Peter and Betty Smith 'sad' over train deaths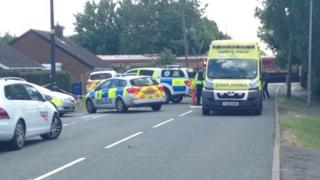 Relatives of an elderly couple struck by a freight train say they are "deeply saddened" by their deaths.
Peter Smith, 80, and his wife Betty Smith, 79, died after being struck at a level crossing near Lincoln on Wednesday.
British Transport Police is continuing to investigate but the deaths are not thought to have been accidental.
Police and the ambulance service were called to Croft Lane, Cherry Willingham, at 11:57 BST.
The couple were from Cherry Willingham, a village near the city of Lincoln.
A statement from their family said: "We are deeply saddened by our loss and we would now like to ask for privacy while we come to terms with what has happened."
The Rail Accident Investigation Branch (RAIB) has been informed.