St Wulfram's church spire repairs start in Grantham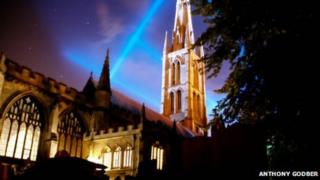 Work has started to repair a Lincolnshire church described as having "the finest steeple in England".
The first stones have been removed from the 86m (282ft) spire, on St Wulfram's Church, in Grantham, which is ranked as one of the tallest in the UK.
More than £500,000 has been raised to help fund the project, which will see the top 12m (40ft) removed and rebuilt.
Metal rods inside the 14th-Century spire have eroded causing damage to the stone work.
'Piece of history'
Father Stuart Cradduck said the work could be difficult as "it's not just one stone and it's quite deep as they get further down the spire".
"The weathervane is now down and people can go and see it," he said.
"The stones that we can't reuse, people can take away. They can offer a donation and take a piece of history."
Father Cradduck added the church would be without the top half of the spire during the repair work.
Newspaper columnist and author Simon Jenkins described the church in his book England's Thousand Best Churches, as having "the finest steeple in England".
The scaffolding went up in February on the Grade I listed building.
The project was awarded a grant of £40,000 by the National Churches Trust, with English Heritage providing funding of £200,000.
Jean Parker, appeal chairman for the church, previously described the project as "colossal" and praised the efforts of all those involved in raising the money.
The church bells will ring again once the work is completed by December.