Sleaford Maltings: Fire damages derelict Lincolnshire landmark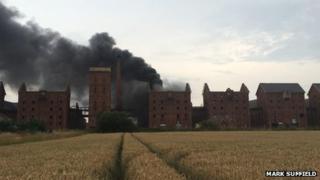 A Grade II-listed landmark in Lincolnshire has been damaged in a blaze thought to have been started deliberately, fire officials said.
The Victorian Bass Maltings in Sleaford, which was derelict, was damaged by the fire on Sunday evening.
Eyewitnesses said they saw "dense smoke" billowing from the six-storey building.
The maltings was built by Bass Brewery but later stopped production and has been derelict for more than 50 years.
'Deliberate ignition'
English Heritage has classified the maltings as one of the the largest at-risk buildings in England.
A proposed £50m redevelopment plan for the landmark building was being considered by the North Kesteven District Council.
Station manager Mark Baxter of Lincolnshire Fire and Rescue said: "When we arrived at the scene we could see flames coming from the building and there was a significant amount of smoke coming out of all the windows.
"With it being a derelict building it was difficult for us to get access to work safely in there."
He said the fire appeared to be "a deliberate ignition" but added a full investigation had not started yet.
North Kesteven district councillor Mark Suffield said: "I looked out my front window and could see one of the towers - and there was dense smoke billowing from it.
"There was a lot of smoke, and although Sleaford retained fire engine was on site it didn't look like there was any mains water, so they had to wait for other engines to arrive to provide water."
Council chief executive Ian Finch said: "The first thing we want to understand is the extent of the damage from last night - but I would be surprised if it had a big impact on the plans … as the fire was located in an area that was significantly damaged already."